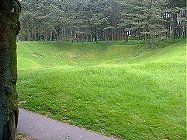 When you look at the size of some of these craters, imagine the weight of earth that was blown skyward. Remember that 2/3 of that earth fell back in the hole from which it was torn.

Between April 1917 and the end of the war, 19,000 Canadians gave their lives for their country and their allies. Their bodies lay buried in the fields and villages near Vimy.

Every tree, every blade of grass, was blown away, leaving a terrain of mud and trenches, rats and lice. In gratitude for the sacrifice and bravery of the Canadians, the French planted this area afresh with seeds sent over from Canada.